Jacksonville Pet Diagnostics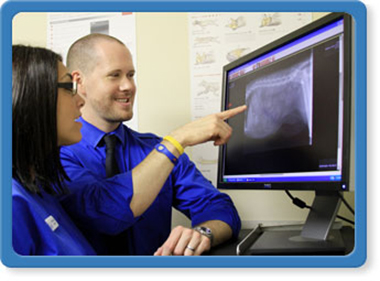 Dog & Cat X-rays
Radiographs (X-rays) are extremely helpful for diagnosing and monitoring many medical and surgical conditions.
X-rays are useful in examining your pet's:

Bones
Lungs
Heart
Abdomen
Oral cavity
& other areas of the body
They can:

Spot a fractured bone
Detect tumors
Help with the diagnosis of heartworm disease
Locate an obstruction or foreign body
Accurately diagnose problems
Mandarin Animal Hospital uses an IDEXX I-Vision CR computerized X-ray machine. IDEXX is the leading manufacturer of this type of equipment and is able to create highly detailed images with a range of features that enhance your veterinarian's ability to make an accurate diagnosis.
---
Veterinary Ultrasound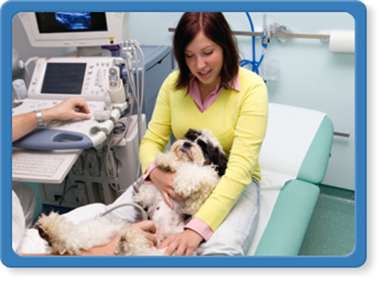 Ultrasound is a very important diagnostic tool because it allows your veterinarian to gain a very precise look at your pet's internal organs, chest and abdomen without surgery or sedation.
In particular, ultrasound is invaluable for:

Making treatment decisions for various types of heart disease
Assessing the function and health of internal organs
Identifying lesions & determining their origin/spread
Aiding with surgical procedures
---
Electrocardiography
Electrocardiographs (ECG) are snapshots of how your pet's heart functions. These are very helpful at detecting numerous types of arrhythmias as well as a handful of other cardiac conditions that can be difficult to identify through a stethoscope.
---
Tonometry
Glaucoma is a condition in which the fluid pressure inside the eye increases to a point where the optic nerve is damaged, causing loss of vision and blindness. Glaucoma is relatively common in animals and can develop as your pet ages or as the result of an injury or illness.
Symptoms to look for include:

Redness in the eye
Tearing or discharge
Eye sensitivity to light
Pain
The eye may look cloudy
Bulging eyeball
We recommend that you have your pet checked regularly for this disease. Dr. Mosley will use an instrument called a Tonometer to measure the fluid pressure inside your pet's eyes. It is a quick, noninvasive procedure that should not cause your pet any pain or discomfort.
---
Mixed Breed Genetic Analysis
Knowing the breeds that make up your mixed breed dog's ancestry is an important piece of your pet's preventative medicine plan because some breeds have unique medical concerns we should be aware of. Mixed breed genetic analysis, also known as a Wisdom Panel, is DNA testing that establishes the precise mix of breeds within your dog's genetic makeup.
---
Our Jacksonville Pet Diagnostic Lab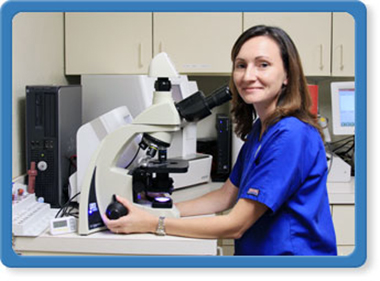 Performing preventative medicine as well as diagnosing emerging internal health issues requires the ability to perform a wide range of laboratory tests on blood, urine, feces, and biopsied tissue. Without timely access to precise laboratory test results it is difficult to make an accurate diagnosis or assessment of your pet's health.
Diagnostic testing can detect:

Heartworm disease
Lyme disease
Infections
Feline leukemia
Intestinal parasites
Urinary tract infections
& much more
Mandarin Animal Hospital has a complete in-house laboratory composed of equipment by IDEXX. In many cases, our sophisticated instruments and diagnostic capabilities allow us to receive results within minutes.
---